A move to relax planning rules around setting-up farm shops is not targeted at TV presenter Jeremy Clarkson's run-ins on his own agricultural land, No 10 has said.
Prime Minister Rishi Sunak and Environment Secretary Therese Coffey unveiled a package of measures to boost the farming sector ahead of Tuesday's UK Farm to Fork summit.
One of the measures included plans to cut red tape to make it easier to repurpose farm buildings to use as shops.
The move is expected to make it simpler for farmers to deliver projects which are not strictly agricultural to help them diversify their incomes.
It comes as former Top Gear presenter Clarkson finds himself embroiled in a row over his plans to allow greater visitor access to his farm and its attached shop.
The popular programme Clarkson's Farm on Amazon Prime, which documents the workings of his Diddly Squat farm, a 1,000-acre operation in the Cotswolds, has sparked interest from tourists in seeking out the broadcaster's produce, with queues for the shop reportedly a regular occurrence.
The 63-year-old wants to extend the car park on his Oxfordshire farm plot to accommodate 70 vehicles but the proposals are opposed by West Oxfordshire District Council.
The council has argued the extension would encourage more visitors to the farm, which sits between Chadlington and Chipping Norton, adding to traffic problems in the beauty spot.
Clarkson has previously found himself in hot water with his local authority over a restaurant on his farm, with the council shutting it down after it was allegedly opened without planning permission.
Downing Street denied that the proposal to make it easier to turn farm buildings into retail spaces had been made with Clarkson's problems in mind.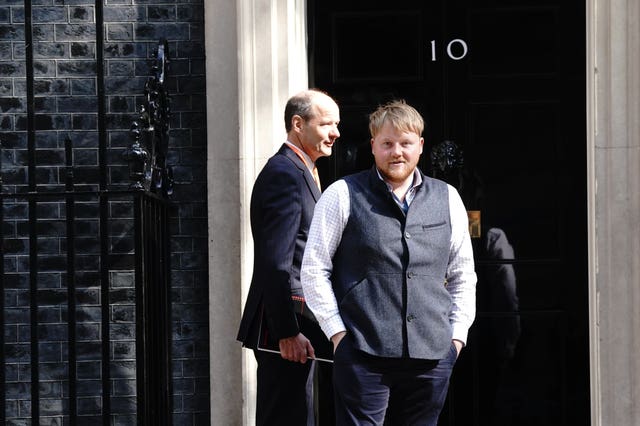 But Mr Sunak referred to Diddly Squat in his speech to summit attendees including farming contractor Kaleb Cooper, who appears in Clarkson's Farm.
In opening remarks shared by No 10, Mr Sunak told representatives of the food industry: "We want to give British farmers greater freedoms to make the best use of their existing buildings, whether that's for a Diddly Squat-style farm shop or a processing facility.
"So we're going to consult on targeted changes to the planning system that enable exactly that and support our rural economy."
The Prime Minister's official spokesman, facing questions about the role Clarkson's farm shop dispute had played in the policy announcement, said: "That's a high-profile example of some of the challenges the sector has faced, but obviously this is not policy targeted to one individual.
"It's an issue that we know that has been raised by the farming sector."
Mr Sunak's spokesman said more information would be given after a consultation has taken place later this year.
Setting out the policy, the No 10 official said: "The idea is that farmers will not have to get local authority consent, effectively, when they are trying to diversify their businesses — whether that's shops, farm shops, that kind of thing.
"Obviously there are other examples currently where people go through local authorities, we know that has posed challenges for some."